Sports Leadership Program
Program Overview
YLP currently serves 30 high school leaders and over 200 elementary students annually at four local schools in South/Central Los Angeles. The leaders coach character building soccer clinics in the fall and spring. Additionally, the leaders participate in college, career, social-emotional learning, and leadership workshops to develop as mentors, role models, and young professionals.
MISSION

"To elevate and empower youth through football with the essential resources, opportunities and relationships to evolve into healthy, brave leaders"

VISION

"To build a thriving community of leaders with the passion to engage and the resilience to learn."
OUTCOMES
This graph shows pre- and post-program scores for all 27 high school youth leaders on nine outcome measures.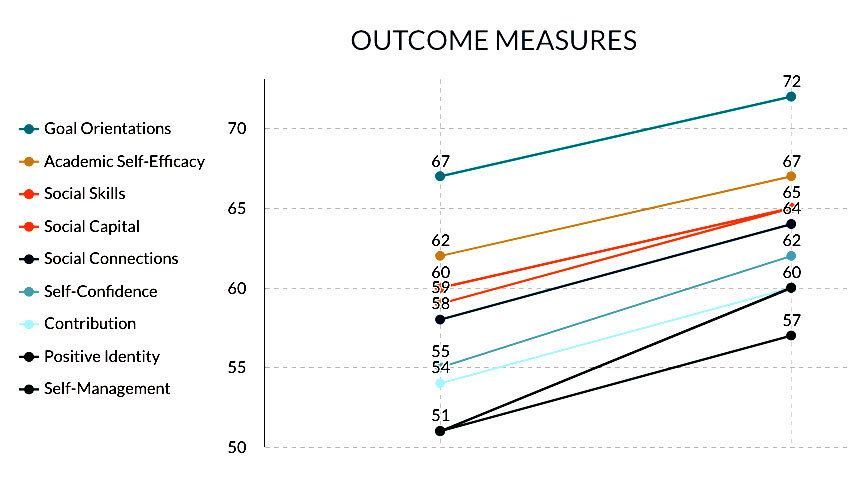 IMPACT
The Youth Leadership Program plays an important role in the lives of youth in low-income communities throughout South and Central Los Angeles by reaching, engaging, and elevating their opportunities through football. Leaders receive a $1000 stipend over the course of their ten month internship. In partnership with Banc of California, Youth Leaders participate in financial literacy workshops that provide them the skills to make smart financial decisions. The program provides a space for the promotion of positive social, physical, psychological, and academic outcomes for youth leaders and mitigates the barriers to gang involvement, school dropout, and other risks.
SCHOLARSHIP
Through our high school program, youth leaders have been awarded 11 scholarships that range from $1,000 to $2,000. Through an application process, our Bresee High School program screens and interviews applicants to award scholarships to students who meet academic criterias. This aid sets our students on a pathway to success for college.
MENTORSHIP
LAFC Youth Leadership Program prides itself on utilizing the power of the mentorship ladder dynamic which focuses on the relationship and collaboration between our high school youth leaders and professional mentors. Community partners mentor YLP staff who in turn mentor our high school youth leaders that are tasked with mentoring the younger elementary school children from our partner schools. We empower the community from within and focus on peer to peer mentoring.

Follow LAFCYLP on social media and stay up to date with events.
If you would like to learn more, or become involved, please fill out the form below or contact Program Director Luke O'Quinn.