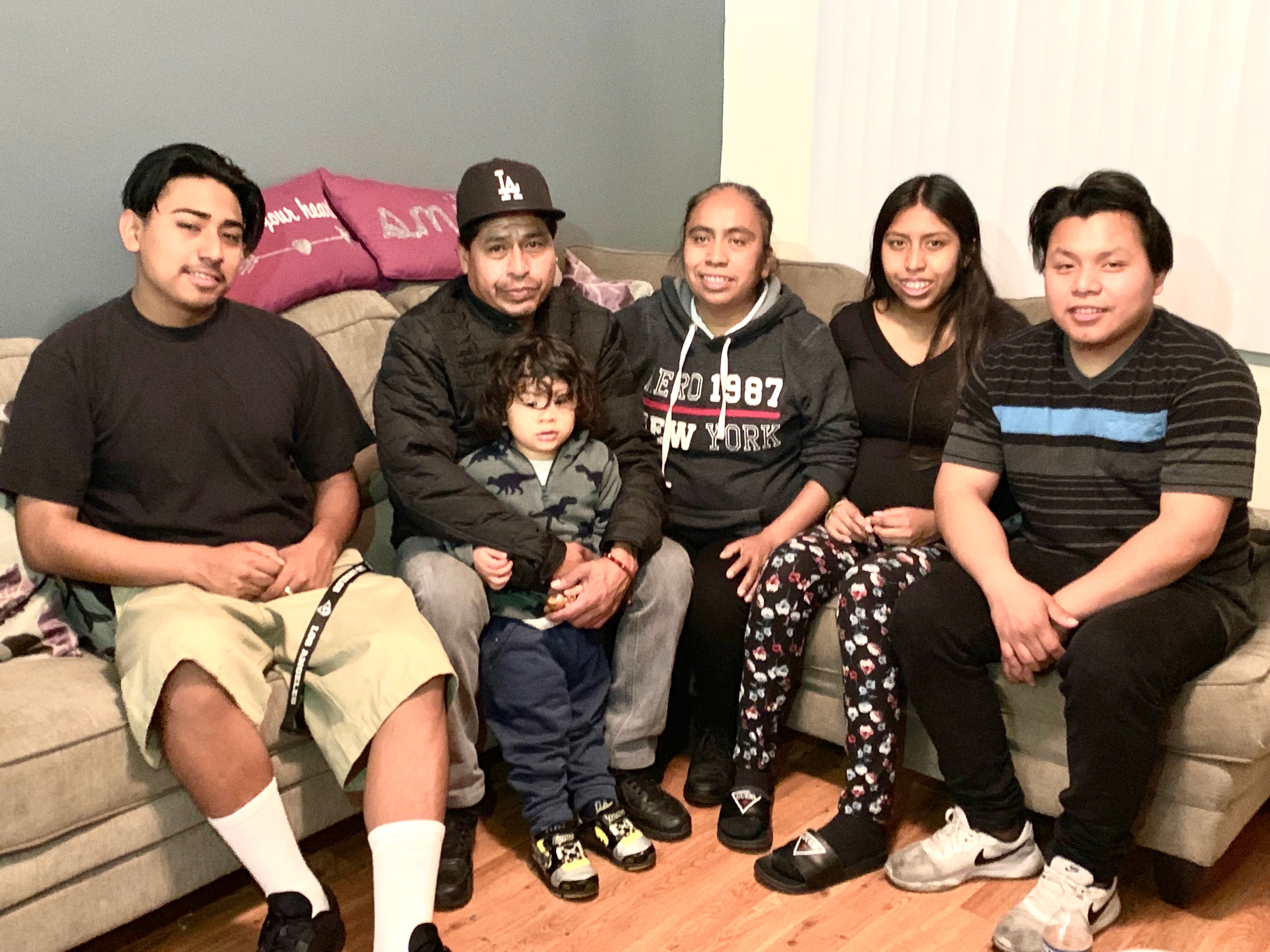 There are certain malfunctions that a handyman can't fix. And there are certain messes that a housekeeper can't tidy up.
Ines and Pedro spent nearly 20 years in that apartment in Pico Union -- 19 years to be exact. Inez is a housekeeper who takes two buses to Gardena for work.  Pedro is a longtime handyman, capable of fixing almost anything.
The couple raised two kids in that apartment -- their son, Jesus, and daughter, Kimberly, whose husband Pablo also lives with the family. They were in the process of raising their great-nephew under the same roof.
But one unfortunate twist of fate put a swift end to those hopes.
"One day you have everything and in seconds, it is gone," Ines said.
The night before Thanksgiving 2018, at 3 a.m., a knock on the door alerted their family. When they opened the door, smoke began to flood into their apartment. An electrical malfunction set off a fire in a nearby unit in the building.
The family ran out of the apartment and downstairs. When they attempted to return, they found their longtime home red-tagged, meaning it was unsafe to inhabit.
Their home had burned to the ground.
In the apartment, along with their clothes, food, furniture and more, was their December rent money, all lost due to the flames.
Also lost were their two Brazilian parrots.
"When they found them, they looked like they were kissing," Ines said.
The Martinez family landed at a Red Cross shelter that evening. They soon moved in with family members, not sure what to do next.
Pedro struggled psychologically with the notion that he could no longer care for his family.
"I felt like giving up but I had to keep thinking of my family," he said. "I had always provided for my family and I felt like I was letting them down."
The fire also put Kimberly's future in jeopardy. She is five classes from graduating from Central High School and is set to give birth in June, but she stopped attending classes after the fire. 
In early December, Ines and Pedro began to search for assistance in finding a new apartment. They reached out to Veronica McDonnell, Program Manager at the FamilySource Center in Pico-Union, and she connected them with Dunia Perich, Director of the FamilySource Center at the Bresee Foundation.
Perich met the family in early December before Bresee was able to officially take up the case near the end of January.
Perich began to piece things together. Ines and Pedro were able to find a new apartment, but they quickly needed financial assistance in order to move in. Perich worked with the managers of the apartment building and, through the Pass It Along Fund, she secured the deposit and first month's rent needed for the family to move in. Perich also worked with FoxGives to provide the Martinezes with new furniture.
Initially, Ines and Pedro were skeptical of Perich's efforts.
"They asked why agencies like us would help families like them," Perich said. "They asked me, 'Are you sure we don't have to pay it back?'"
Ines said she found it "too good to be true."
But on February 6, when they moved their family into a new apartment, those doubts became a thing of the past.
"Now we feel better," Ines said. "Little by little."
In addition, Kimberly is back on track to earning her diploma. Bresee FamilySource PSA Counselor Ana Maciel reconnected Kimberly with her school's Pupil Services and Attendance Counselor so that she can catch up on her classes. The school has since agreed to let Kimberly do independent study.
Through the LAUSD partnership with Baby2Baby, Kimberly has been provided with maternity clothing, a diaper bag, and other baby items.
Jesus now has a 76.8% attendance rate at Belmont High School and even though he is behind in credits, he has met with his academic counselor and they have made a plan for him to catch up so that he can graduate from high school on time with his peers.
Ines and Pedro don't have everything back in order. Their new apartment is two bedrooms and there are currently two beds for five adults. The family still needs small dining set for four, a sofa bed, an air mattress, and cookware, among other items.
Perich and the FSC continue to pursue extra resources for the family. She has been able to provide rental and grocery assistance. She's secured some furniture and is looking to get her hands on more.
Today, more than anything, Ines and Pedro are grateful for the help of Perich and the FSC. They have a roof over their head and food for dinner.
Perhaps Pedro puts it best...
"We're grateful and we're thankful," he said. "We know it will take time to build everything up again.
"We're a strong family. We're struggling, but we're surviving."