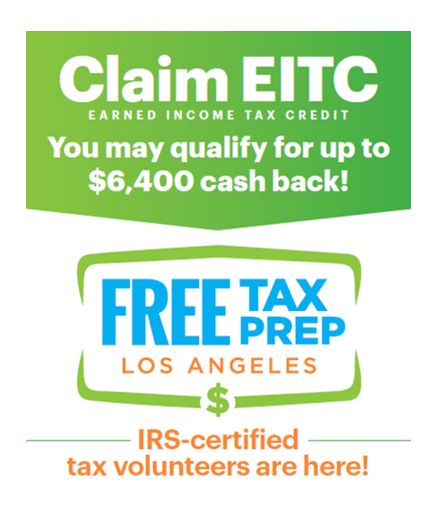 THE EITC IS MONEY IN YOUR POCKET
If you are low-to-moderate income household, you may be eligible for the Federal and Cal Earned Income Tax Credits (EITC). The Federal EITC is a refundable credit worth up to $6,431 that is available to low-to-moderate income individuals and families. The Cal EITC is worth up to an additional $2,879. The only way to claim the federal and state EITC is to file an income tax return.
FREE TAX PREP LOS ANGELES IS A TRUSTWORTHY AND STRESS-FREE WAY TO FILE YOUR TAXES
File with confidence with Bresee Foundation Volunteer Income Tax Assistance (VITA) site and keep more of your hard-earned money. IRS-certified volunteers provide free basic income tax return preparation with electronic filing to qualified individuals. To book your free tax prep appointment, call us at (213)387-2822 Ext.113.
---