Discover how in-depth data is shaping Bresee's efforts to battle poverty in Central LA.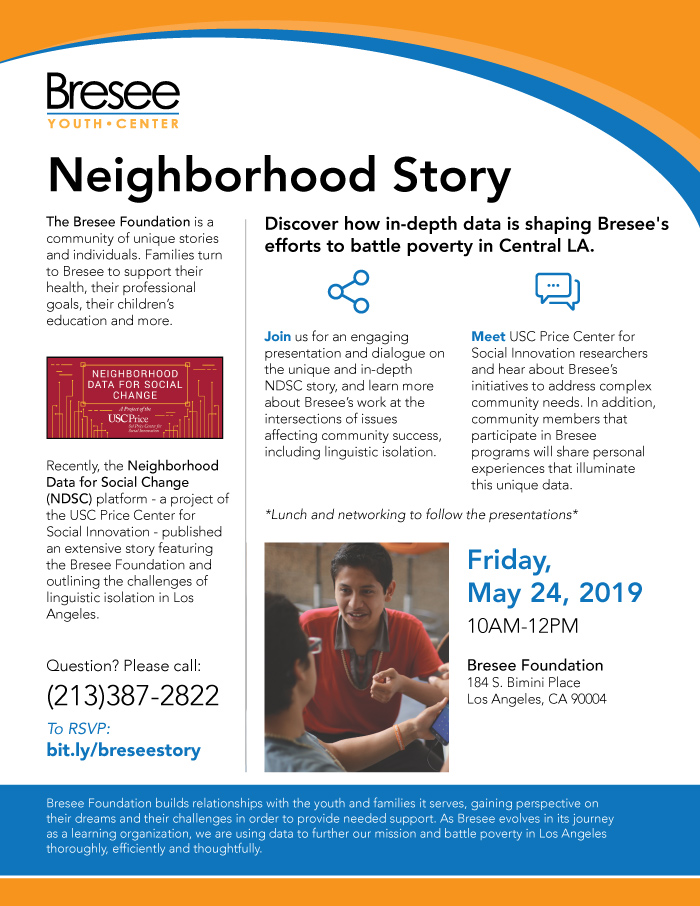 The Bresee Foundation is a community of unique stories and individuals. Families turn to Bresee to support their health, their professional goals, their children's education and more. Recently, the Neighborhood Data for Social Change (NDSC) platform - a project of the USC Price Center for Social Innovation - published an extensive story featuring the Bresee Foundation and outlining the challenges of linguistic isolation in Los Angeles.
Join us for an engaging presentation and dialogue on the unique and in-depth NDSC story, and learn more about Bresee's work at the intersections of issues affecting community success, including linguistic isolation.
Meet USC Price Center for Social Innovation researchers and hear about Bresee's initiatives to address complex community needs. In addition, community members that participate in Bresee programs will share personal experiences that illuminate this unique data.
Friday, May 24, 2019
10AM-12PM
Bresee Foundation
184 S. Bimini Place, Los Angeles, CA 90004
Registration for this event has been closed.
---